Hi guys!
---
Today I have something rather different for you: a spotting topic! I don't think I've ever created one of these on the IFC, but here I am now:)
---
Today's spotting session bought me to EHAM Amsterdam Schiphol's runway 18R/36L, otherwise known as the Polderbaan. Due to the COVID-19 pandemic, there are barely any smaller aircraft; I only spotted one 738 and an Embraer 190. The rest were all heavy aircraft, coming from all over the world and most likely carrying medical equipment as a lot of them were freighters.
---
Sorry if the quality is 💩 I took the video with an iPhone X, and the pictures with a Samsung Galaxy S20, I have to say that the pictures taken turned out rather nicely:D
---
I made a YouTube video of the spotting, where a lot of aircraft information is shown in the following format:
Time
Aircraft
Registration
Airline
Flight number
Departure airport
What I just mentioned above is only for the YouTube video, I will do something similar with the pictures, more on that in a moment.
---
YouTube video: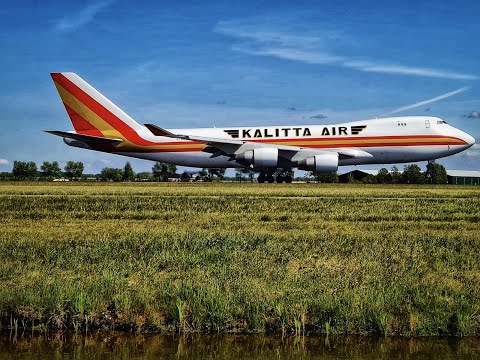 ---
And now for the pictures:
I will show the pictures with the following information format:
Aircraft and Flight Details

aircraft:
Airline:
Registration:
Serial number:
Flight number:
Age:
Of course, I will also provide some more little facts:)
---
And finally, here are the pictures, enjoy xD
---
Kalitta Air Cargo coming from New York John F Kennedy. After a 6 hour and 25 minute flight, the Boeing 747-400F touches down at Schiphol's runway 18R.
Aircraft and Flight Details

Aircraft: Boeing 747-4B5(F)
Airline: Kalitta Air (Cargo)
Registration: N710CK
Serial number: 26406
Flight number: K4205
Age: 22 years, July 1997
---
Here is a KLM Cargo aircraft landing after a flight from Miami, taking the mighty Boeing 747-400F
7 hours and 50 minutes. The flight was operated by Martinair Holland.
Aircraft and Flight Details

Aircraft: Boeing 747-406F(ER)
Airline: Martinair Holland, KLM Cargo plane
Registration: PH - CKB
Serial number: 33695
Flight number: MP6162
Age: 17 years, April 2003
---
Now's a Kenya Airways Boeing 787-8 dreamliner after touchdown with it's beautiful thrust reversers deployed and slowing down on EHAM's Polderbaan (18R) after a journey lasting just under 8 hours from Nairobi.
Aircraft and Flight Details

Aircraft: Boeing 787-8
Airline: Kenya Air Ways
Registration: 5Y-KZD
Serial number: 36041
Flight number: KQ2116
Age: 5 years, July 2014
For some reason it looks way to short, maybe it's just me
---
Next is a rather new aircraft belonging to Emirates. Here's the Boeing 777-300 arriving after a 10 hour 15 minute flight from Quito.
Aircraft and Flight Details

Aircraft: Boeing 777-31H(ER)
Airline: Emirates
Registration: A6-EQK
Serial number: 42359
Flight number: EK9257
Age: 2 years, April 2018
---
Next up is a regular but very respected Singapore Airlines Cargo Boeing 747-400F arriving from a 9 hour 40 minute flight from Chennai. I think that livery actually looks amazing on their 747s
Aircraft and Flight Details

Aircraft: Boeing 747-412F(SCD)
Airline: Singapore Airlines Cargo
Registration: 9V-SFP
Serial number: 32902
Flight number: SQ7372
Age: 14 years, October 2005
---
Now is a China Cargo arriving after an 11 hour flight from Shanghai. I have to say I liked the outcome of this picture:) on second thoughts I actually don't think it looks too good
Aircraft and Flight Details

Aircraft: Boeing 777-F6N
Airline: China Cargo Airlines
Registration: B-2079
Serial number: 37715
Flight number: CK205
Age: 9 years, July 2010
---
And to wrap things up is a mighty Qatar Cargo Boeing 777 freighter coming from Chicago O'Hare. Here it is seen rolling out on the runway, preparing to exit with tower's clearence.
Aircraft and Flight Details

Aircraft: Boeing 777-FDZ
Airline: Qatar Cargo
Registration: A7-BFH
Serial number: 42298
Flight number: QR8102
Age: 5 years, February 2015
---
What was your favourite picture?
1
2
3
4
5
6
7
they're all bad
---
So that wraps things up! I really hope you enjoyed the video and pictures despite the low-end quality. Any feedback is most appreciated as this was my very first spotting topic. Do keep in mind when giving feedback that I don't have access to higher quality equipment yet…
---
Stay safe and ever so healthy,
Rian